For those who have stuck around for
Agents of S.H.I.E.L.D
left us last night with more questions than answers. But in a really good way. The show had guest star Bill Paxton which was also a pleasant surprise.
Leaving off where the last episode left off was Skye being on life support and only having a few days left to live. So Coulson in a last attempt to save her traces his own resurrection story back to a secret underground laboratory that holds this miracle serum GH-325. During the reveal of where the drug is leads Coulson back to T.A.H.I.T.I...
In this secret room has the biggest reveal of the entire series which shows a blue humanoid like alien being experimented on and being used to create the GH-325 serum.
That left us wondering.....what was the alien!? Some rumors are swirling around the internet on the possibility's. Some think that it was an Atlantean connected directly to Namor. Because if some of you remember Atlantis is seemingly shown on the Iron Man 2 S.H.I.E.L.D screen....
Now we may have another possibility which is completely based on speculation. Back last June in an interview with
Digital Spy
actor Clark Gregg (Agent Coulson) reveals that he actually would love to play Captain Marvel..cause she's so hot:
I can't say this because these guys are like, giant muscular superheroes, but if I had a magical transformation, I wouldn't mind being Captain Marvel. Although, there's a new Captain Marvel in the comics who's a lady alien, and she's hot. I would be a lady alien Captain Marvel.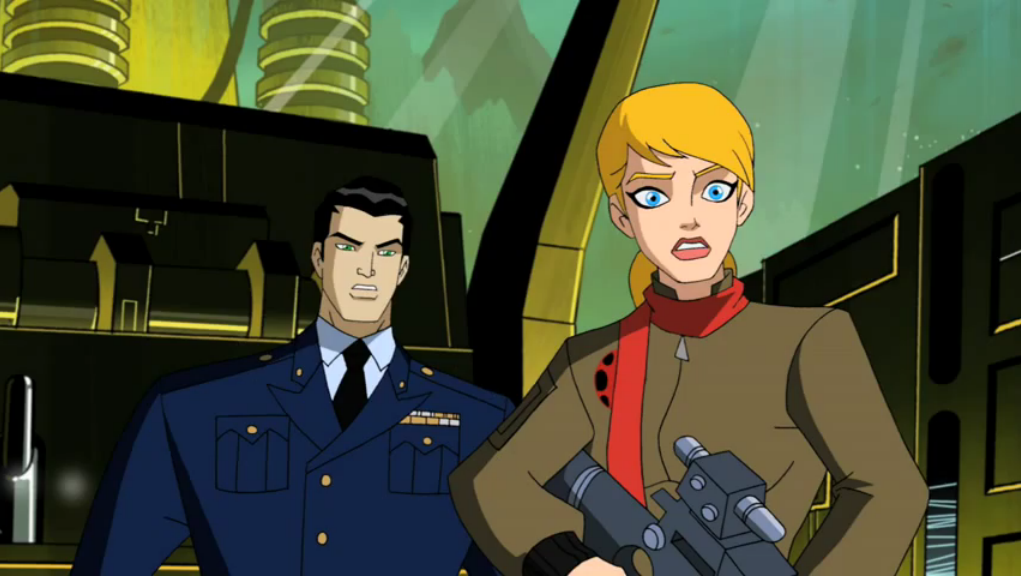 Of course this was a joke to the Carol Danvers character of Captain Marvel that gains her powers through Mar-Vell. Now who is Mar-Vell exactly? Well he is a Kree solider sent from the Kree empire as a sleeper cell on earth. He assumes the identity
Dr. Philp Lawson
under S.H.I.E.L.D. Instead of giving the Kree empire information about earths greatest weaknesses he learns of the heroes of earth and eventually becomes one of earth's mightiest heroes. Lastly, his full Kree name is actually
Geheneris HalaSon Mahr Vehl (Ultimate Version)...which brings us back to the GH Alien.
The Kree empire is also known for having blue skin. They also will be officially introduced in Marvel's Guardians of the Galaxy. The main villain of the film Ronan the Accuser (Lee Pace) is a leader of the Kree but also under the control of Thanos. This would bring us full circle...
Which brings us back to the blue alien. If he is a indeed a Kree alien this maybe setting up for Phil Coulson to become Captain Mar-Vell. Obviously his origin will be changed to fit into the current Marvel Cinematic Universe timeline. Also, one thing that Simmons mentions also is that they used some type of brain neuro machine to implement that Tahiti memory's into Coulsons brain. Is it possible they also implemented memory's from this Kree solider without Coulson knowing? That would explain why when Agent John Garret (Bill Paxton) saw Coulson after the blue alien reveal he makes the remark "You look like you've just seen a ghost" It maybe connected to Coulson seeing "himself" in the blue alien...
This all points to an almost obvious idea that Agent Phil Coulson has been injected with Kree blood and maybe even memorys. The question is what will this mean in the means of powers? Will Coulson develop his own gifts? Also, what does this mean for Skye who was also injected and survived?! Coulson may not even devlop powers the SAME exact way Mar-Vell did given the origin change.
This also officially would make Skye and Agent Coulson an
Inhuman
. A special species of human who's bloodline is the hybrid of Kree and Human genes.
"@geeklordjedi: @clarkgregg is this the movie we find out Coulson is secretly Capt. Mar-Vell?" God, I hope so. Love her.
— Clark Gregg (@clarkgregg) February 19, 2014
:: Disclaimer :: Superhero Movie News is run by volunteer contributors. If we are asked to take down anything we will and it will not be put back up after that.....No questions asked. Visit our COPYRIGHT TAKEDOWN REQUEST Page for details.
---
---