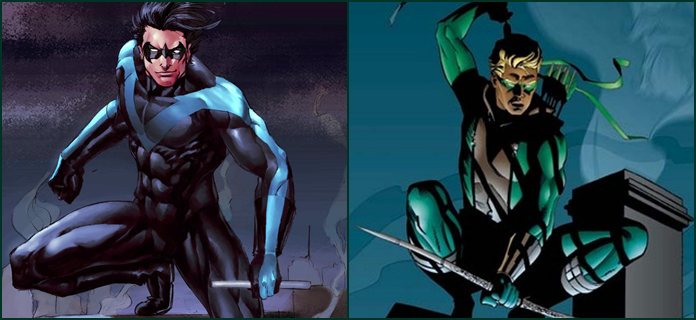 With all the buzz surrounding Nightwing in
Batman vs Superman
this news story flew under the radar. A couple days ago actor Steve McQueen (CW Alum from The Vampire Diaries) posted on his official twitter an interesting tweet. He was working out with a Nightwing shirt and tweets "Nightwing Training" then hashtags of all the the writers for the show Arrow:
Nightwing training @ARROWwriters @GBerlanti @KyleDHiggins @RapaportCasting pic.twitter.com/1YN5IrBVC4
— Steven McQueen (@McQueeninchains) November 9, 2013
A few things to remember is that Bludhaven has been mentioned several times in the Arrow TV Show so a Nightwing character is entirely possible. The main thing is if this was a serious tweet that Steve McQueen is indeed going to play Dick Grayson on Arrow.....The upcoming Batman vs Superman (Man of Steel 2) universe won't be connected to the Arrow Universe...which some of us wished it was. The reason this means the two universes aren't connected is due to the fact we will have two different Dick Graysons. Unless of course Arrow takes place before Man of Steel.
This is in no way confirming anything....For all we know he was just campaigning for the role and tagged all the Arrow writers telling them he wants to play Nightwing. With no confirmation from the shows producers....the idea of Arrow connected to Man of Steel is still possible!
:: Update :: -
Had some superhero conversations with the executives this weekend @ARROWwriters
— Steven McQueen (@McQueeninchains) November 11, 2013
Arrow is on every Wednesday night on The CW
:: Disclaimer :: Superhero Movie News is run by volunteer contributors. If we are asked to take down anything we will and it will not be put back up after that.....No questions asked. Visit our COPYRIGHT TAKEDOWN REQUEST Page for details.
---
---