Will Arnett talks about working on a big action movie like Teenage Mutant Ninja Turtles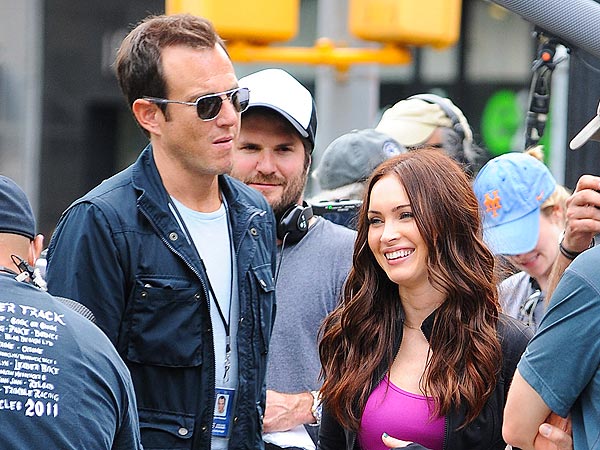 Today
Fan Voice
sat down to talk to Will Arnett about his current projects like the TV show The Millers. They eventually got to 'Teenage Mutant Ninja Turtles' where Arnett plays Vernon FenwickApril O'Neils (Megan Fox) Cameraman:
Fan Voice:
Did you shoot
Teenage Mutant Ninja Turtles
before Millers?
Will Arnett:
No, I shot the pilot for
Millers
before. I was there in New York rehearsing and stuff for
Ninja Turtles
. I came back, shot the pilot and then went back and got into shooting. I just got back Saturday from three and a half months.
Fan Voice:
Are you wrapped on
Ninja Turtles
?
Will Arnett:
I am.
Fan Voice:
Have you always wanted to do a big action movie?
Will Arnett:
For sure. Those are the movies I watch. I'm a big fan of action. I actually don't even really see a lot of movies but I like action movies. It was something that I wanted to do. It wasn't necessarily something that I thought would come my way, and when this opportunity came, to do a big movie like this produced by Michael Bay, I completely jumped at it.
Fan Voice:
Are there motion capture people on set?
Will Arnett:
We have all of it. THe turtles themselves are the actors wearing motion capture suits. The good folks at ILM are aiding us in creating these magnificent turtles with the help of the actors portraying them. We have the advantage of, it's not like it used to be where we're acting with a tennis ball at the end of a stick. We're actually interacting with other actors. It was a great experience.
Fan Voice:
How was your experience in the big crazy action scenes?
Will Arnett:
Really fun, very demanding. I got into shape. We have multiple action fight scenes. There are a couple huge action sequences that I'm so excited for people to see. They're pretty amazing.
Fan Voice:
Do any of them come straight out of the comic book?
Will Arnett:
We stay true to a lot of the martial arts tendencies, their proficiency on the Turtles' part. We get into all that stuff and there's a lot of great fights. So many tremendous guys working on the movie in terms of fighting and stuff, and sorting all that out for that martial arts aspect. I think it's a really great balance. They've done a good job of updating that story.
Check out the full interview where he talks LEGO The Movie, The Millers and Arrested Development at
Fan Voice TV
.
Ninja Turtles hits next summer!
:: Disclaimer :: Superhero Movie News is run by volunteer contributors. If we are asked to take down anything we will and it will not be put back up after that.....No questions asked. Visit our COPYRIGHT TAKEDOWN REQUEST Page for details.
---
---