Finally! Some confirmation about Mark Hamill, Carrie Fisher and Harrison Ford!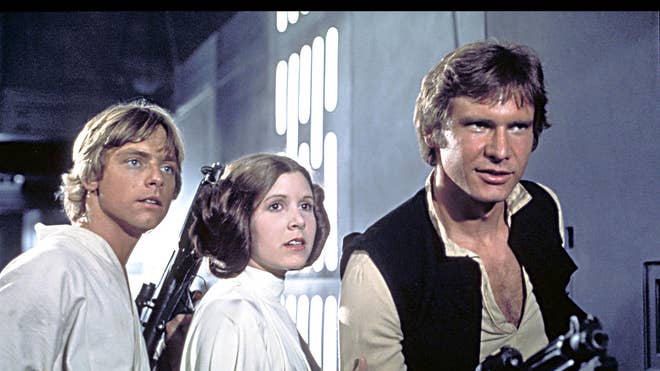 Is this really that surprising? It has been confirmed by
Alan Baltes of
Feature Film Casting
& The Examiner that Carrie Fisher, Mark Hamill and Harrison Ford have officially signed onto reprise the roles in JJ Abrams upcoming Star Wars: Episode VII". With Billy Dee Williams NOT officially signed on but is interested:
Starring in "Star Wars: Episode VII" is Academy Award nominee Harrison Ford reprising his role as Han Solo from the original Star Wars Trilogy. Two-time Primetime Emmy Award nominee Carrie Fisher will reprise the role of Princess Leia. Mark Hamill has officially been cast to return as Luke Skywalker. Primetime Emmy Award nominee Billy Dee Williams is said to be on the radar to return as the character Lando Calrissian, and has stated that he would be very interested in reprising the role.
It also goes onto say that this story will be an ORIGINAL concept not based on the expanded Universe. This will confirm
Latino-Reviews scoop
from several months ago:
"Star Wars: Episode VII" will be an original story and not directly based on the various novels, graphic novels, or other materials in the Star Wars Expanded Universe that take place during the post-Return of the Jedi time period. Disney aims to continue the story that began back in 1977. The film will call for much older versions of the main characters returning along with other fan favorites. In addition to "Star Wars: Episode VIII" and "Star Wars: Episode IX," Disney also is developing stand-alone movies that will come out over the next six years involving Young Han Solo, Boba Fett and Yoda. Lawrence Kasdan and Simon Kinberg lined up to develop the movies for Disney.

Star Wars: Episode VII hits in 2015!
:: Disclaimer :: Superhero Movie News is run by volunteer contributors. If we are asked to take down anything we will and it will not be put back up after that.....No questions asked. Visit our COPYRIGHT TAKEDOWN REQUEST Page for details.
---
---