'The Flash' can connect all of DC's movies and TV shows together into one giant Cinematic Universe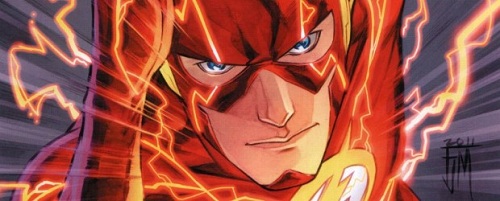 Today it was revealed that the creators of Arrow is moving forward with introducing the scarlet speedster to the 'Arrow' universe in Season 2 as well as branching off to his own TV Series. It was also revealed that DC is planning on still moving forward with The Flash movie hitting theaters in 2016. Since they are the only company to actually have all of their characters under one roof yet haven't create its own universe for all of them to live in....
This entire time most people wondered why DC couldn't get going with there own universe after rejecting Will Beal's Justice League script then pushing the movie to 2017. Nothing but trouble at Warner Bro's....apparently they may have in secret been putting together a Cinematic Universe just not how people ever expected
What does this all mean?
One, Arrow will be introducing super powered beings to its universe (Something the creators were initially against). The Flash can even be the same actor in all 3 mediums.....
Also, the not so untimely release of Justice League: The Flashpoint Paradox animated film.
During the The Flashpoint Paradox Barry Allen figures out a way to prevent his mother being killed on her birthday when he was a child that it changes the entire fate of every Justice Leaguer. Superman is captured by the government, Bruce Wayne dies not Thomas and Martha Wayne, Hal Jordon never receives his power ring, Wonder Woman and Aquaman start World War III ect...
With
Batman vs Superman
staring Henry Cavill and yet-to-be-announced Batman emerging in 2015 then Flash in 2016 this is all leading to DC;s team-up of a life time Justice League of America. Stepehn Atwell's Arrow can even be apart of this cinematic universe. Not a founding member but Starling city referenced or even a cameo at the end of Justice League.
Is this what DC had in mind the entire time? Only time will tell
Arrow returns this Fall, Batman vs Superman hits 2015, The Flash hits 2016 and Justice League 2017
:: Disclaimer :: Superhero Movie News is run by volunteer contributors. If we are asked to take down anything we will and it will not be put back up after that.....No questions asked. Visit our COPYRIGHT TAKEDOWN REQUEST Page for details.
---
---